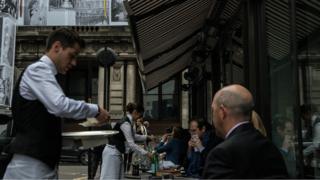 The UK economy is contracting at its fastest rate since the financial crisis, making an interest rate cut "a foregone conclusion", according to financial data company Markit.
The Markit/CIPS purchasing managers' index that showed activity in the UK's dominant services sector saw its sharpest fall in seven years.
It follows falls in both construction and manufacturing in July.
The index fell from 52.3 in June to 47.4 in July, indicating contraction.
Markit said the economic data made a cut in interest rates by the Bank of England – expected following Thursday's meeting of the Monetary Policy Committee – a foregone conclusion.
Policymakers are widely expected to reduce rates from the current 0.5% to a new low of 0.25%.