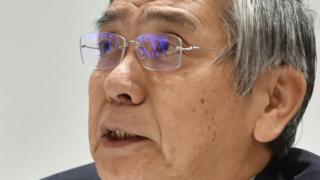 Japan's benchmark Nikkei 225 was down more than 2% in early trade on Monday as a stronger yen hurt big exporters like Toyota.
Investors were also wary ahead of central bank meetings later this week.
The US Federal Reserve and the Bank of Japan are both due to hold meetings, however, no big rate moves are expected.
Toyota's shares were down by more than 1.8%, Honda's shares were 2.8% lower, while Nissan's fell by nearly 2.5%.
By mid-morning, the Nikkei 225 had fallen further into negative territory and was down close to 2.5% at 16,193.06 points.
Meanwhile, South Korea's benchmark Kospi index was also in negative territory on Monday, down 1.45% at 1,988.33.
In China, markets were following the regional downward trend. Hong Kong's Hang Seng index was down 2.15% to 20,586.71, while the Shanghai Composite was down 1.22% to 2,890.55.
In Australia, stock markets are closed for the Queen's birthday long weekend.