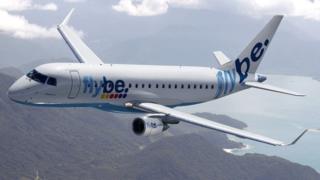 The regional airline Flybe has announced pre-tax annual profits of £2.7m compared with a loss of £35.6m the previous year.
The company said there had been an 8.2% increase in passenger revenue and 5.9% increase in passenger numbers.
This was despite the terrorist attacks in Paris in November and in Brussels in March.
Flybe said conditions remained "challenging".
It said some of the other negative factors included industrial unrest in France, consumer uncertainty fuelled in part by anxiety ahead of the EU referendum, and increased competition in the European short-haul market.
Saad Hammad, chief executive, who is steering the company through a three year turnaround plan said: "We delivered top-line growth in a difficult revenue environment, expanding our network and carrying more passengers than last year."
The company said it had driven down costs and found new uses for its surplus Embraer E195 jets which it described as its "last key legacy issue."
"As a result of all the action we have taken, Flybe is now a much more resilient business and well positioned for profitable growth," Mr Hammad added.